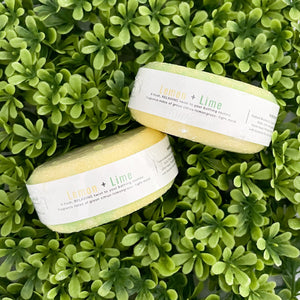 BE Salt and Light Candle Co.
Bath Pucks
Sale price Price $2.50 Regular price $5.00 Unit price / per
Each of our luxurious bath pucks weigh approximately 5 oz.  This ad is for ONE bath puck.  These bath pucks can be used to treat yourself to some relaxing tub time after a hectic day or they also make perfect gifts for others to indulge!

Our Scents in Bath Pucks:
Bamboo Coconut - Pineapple, Spearmint, Green Floral, Bamboo, Coconut, Coconut Milk

Cocoa Butter Cashmere - Warm Spices, Vanilla, Tonka, Jasmine, Coconut, Cedar Wood, Sandalwood, Amber, Musk, Cocoa Butter

Cranberry Rhubarb - Anjou Pear, Georgia Peach, Juicy Cranberry, Black Currant Preserves, Grapefruit Zest, Strawberry Vine, Rhubarb, Vanilla Sugar, Tonka Bean, White Musk
Daisy - Berry, Floral, Musk, Ozone
Lavender - Bergamot, Citrus, Lavender, Cedar, Powder, Eucalyptus, Camphor

Lemon + Lime - Green Citrus, Lemongrass, Light Musk
Love Spell (Heart Shape) - Peach, Grapefruit, Apple, Cherry Blossom, Hydrangea, Powder, Vanilla
Mango and Coconut Milk - Orange, Pineapple, Peach, Mango, Sugar, Coconut Milk

Patchouli - Ginger, Cinnamon, Clove, Cedar, Jasmine, Patchouli, Oud, Amber
Peppermint and Eucalyptus - Eucalyptus, Peppermint, Cedar, Clove, Patchouli, Vanilla, Powder

Pineapple Paradise - Sweet Pineapple, Vanilla
Sea Salt Blossom - Ozonic, Apple, Peach, Pear, Bergamot, Orange, Dewy Greens, Aquatic Florals, Water Lily, Jasmine, Violet, Cyclamen, Lavender, Herbal, Green Leaves, Sea Moss, Woody, Cedarwood, Rosewood, Sheer Musks
Tranquility - Lemon, Lime, Lemongrass, Sugar, Black Currant, Jasmine, Powder, Patchouli

Beautiful Day - Sicilian Bergamot, Sugared Tangelo, Starflower, Blue Iris, Red Rose, White Agarwood, Radiant Amber, Musk
Directions: Place one bath puck in your bath water, and enjoy the aromatherapy and fizzy/bubbly action while you soak and relax. 
Ingredients: Sodium Bicarbonate, Citric Acid, Cream of Tartar, Witch Hazel, Kaolin Clay, SLSA, Jojoba Oil, Preservative, Phthalate Free Fragrance and Essential Oils, Skin Safe Mica (colorant)